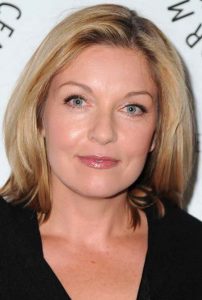 Hollywood star Sheryl Lee came to prominence for her role as Laura Palmer / Maddy Ferguson in David Lynch's Twin Peaks. She reprised her role in the 1992 film Twin Peaks: Fire Walk with Me. For her performance, she was nominated for an Independent Spirit Award for Best Female Lead. In 1994, she played the title role in the TV movie Guinevere. After portraying Bathsheba in the TV series David, she became known for starring as Dr. Sarah Church in the CBS series L.A. Doctors.
Also during the 1990s, she had roles in the films Jersey Girl, Don't Do It, Fall Time, Backbeat, Mother Night, and Bliss, to name some. Her role in the 1998 film Vampires also got her a Saturn Award nomination. In the 2000s, she starred in the films Children on Their Birthdays and Paradise, Texas. She also played Marlene McDillon Cadena in the crime drama Kingpin. Between 2005 and 2006, she played Elizabeth "Ellie" Harp in One Tree Hill.
Her next role on television was as Andrea Smithson in Dirty Sexy Money. In 2010, Lee played a supporting role in the independent drama film Winter's Bone. Subsequently, she had performances in the movies Texas Killing Fields, White Bird in a Blizzard, The Makings of You, Jackie & Ryan, Rebirth, and Café Society. She also recently reprised her role as Laura Palmer / Carrie Page in Twin Peaks: The Return.
In 2014, the actress revealed that she suffers from a rare blood disorder called neutropenia. That's why part of her lifestyle is to stick to a clean, healthy diet. Obviously, it's not for losing weight, it's for helping her body get better. Her diet plan excludes processed foods. She's also quite disciplined when it comes to her meal portions. As such, her diet typically consists of fish and chicken, whole grains, as well as lots of fruits and veggies.