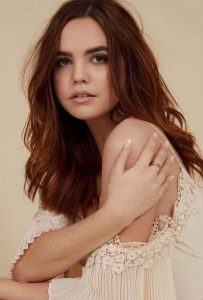 Hollywood star Bailee Madison started her acting career at a young age. She first debuted in the 2006 film Lonely Hearts. She next played May Belle Aarons in 2007's Bridge to Terabithia. She went on to appear in such movies as Look, Saving Sarah Cain, The Last Day of Summer, Phoebe in Wonderland, Merry Christmas, Drake & Josh, and Brothers. On television, she made guest appearances in CSI: NY, House, Unfabulous, Cory in the House, and Law & Order: Special Victims Unit.
During her early teens, Madison had performances in the films Conviction, Letters to God, Don't Be Afraid of the Dark, and Just Go With It. She also appeared in 4 episodes of R.L. Stine's The Haunting Hour. In 2011, she played recurring role Maxine Russo in Wizards of Waverly Place. The actress also played the young Snow White in Once Upon a Time.
Back in the movies, she continued her film career with roles in Parental Guidance, Cowgirls 'n Angels, A Taste of Romance, and Northpole. She then starred as Hillary Harrison in the ABC sitcom Trophy Wife. Following this, she played recurring character Sophia Quinn in The Fosters. From 2015 to 2019, Madison starred as Grace Russell in The Good Witch. In 2018, she starred in the film The Strangers: Prey at Night. She also ventured into producing with the movie A Cowgirl's Story.
Despite being young, Bailee Madison already acknowledges the importance of a healthy diet. As an actress, she wants to keep herself in top shape. Healthy eating for her isn't only to lose weight, it's also to feel great and strong from the inside out. As for her diet plan, she keeps it simple. Nothing too strict or anything that'd involve her starving herself. She just eats nutritious foods, from fish to chicken to fruits and veggies. She still eats whatever she wants but she practices portion control to avoid overating.