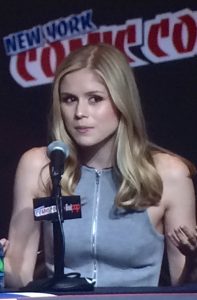 American actress Erin Moriarty started her career when she made her debut in 2010. Her first ever acting gig was on the soap opera One Life to Live, playing the role of Whitney Bennett. She next appeared in an episode of Law & Order: Special Victims Unit. She then made her big screen debut in the 2012 film The Watch. Her first main role on the small screen was on the TV series Red Widow. She next had a recurring role, playing the role of Audrey Hart on True Detective. Her other films are After Dark and The Kings of Summer. She recently appeared in the movies Blood Father and Captain Fantastic. Since 2015, she has been starring as Hope on the Netflix series Jessica Jones.
The actress is young and is just starting out in the show business. Despite this, she is already making a name for herself, thanks to notable roles on a few prominent TV shows. Also despite her young age, the actress is already conscious of her health. She wants to be fit, not just to look great, but to also feel good on the inside. Being slim is not so hard to maintain for her since she is young and has a fast metabolism.
So, even though she generally eats what she likes, she still does so in moderation. She also tries her best to focus on eating nutritious foods rather than the junk ones. She teaches herself to be more appreciative of lean proteins and fruits and vegetables. This is despite the temptations of fast foods and desserts. She also believes that it all depends on knowing how to balance her eating habits. For instance, if she has eaten pizza and some cakes as her way of satisfying her cravings, she will have something healthy the following day.