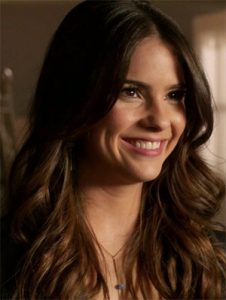 It was in 2004 that Hollywood star Shelley Hennig got her start in the show business. Her first acting gig was in the soap opera Passions. It was also during this year that she won the Miss Teen USA title. Three years later, she started starring as Stephanie Johnson in the soap opera Days of Our Lives. She stayed on the show until 2011. Afterward, she joined the main cast of The CW series The Secret Circle as Diana Meade, though the show was canceled. She next appeared as recurring character Christy in Zach Stone Is Gonna Be Famous.
She later became known for her role as Malia Tate in Teen Wolf. She started a recurring role in Season 3. From seasons 4-6, she became a regular cast. Around this period, she made her big screen debut in the 2014 film Unfriended. She also starred in the horror film Ouija. She went on to star in the films About Scout, Summer of 8, and Roman J. Israel, Esq. She recently played a supporting role in the Netflix film When We First Met. She will star as Carly Ambrose in the upcoming series Liberty Crossing.
In an interview, the television and film actress admitted to being a foodie. She said: "I love to eat. I'm from New Orleans. I eat like nobody's business." Looking at her, it doesn't seem that her body is putting on weight. It would seem that her metabolism is fast since she remains slim. She also tries to balance this by working out. Nonetheless, the actress also knows that she has to focus on eating healthy foods. While she surely loves to eat, it doesn't mean that she eats anything.
She mostly prefers eating the ones rich in vitamins and minerals. She focuses on lean proteins, complex carbs, and fruits and veggies. She also eats whole grains and other foods rich in fiber for better digestion. In the morning, she likes having an egg or some toast. She also tries to eat organic foods as much as possible. Lunch and dinner can either be rice and chicken or pasta with some fish and salad. She indulges in her cravings from time to time but she always practices portion control.