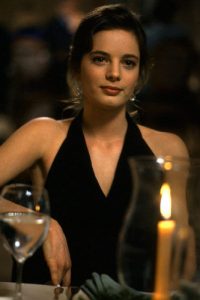 Hollywood star Gabrielle Anwar has been acting since 1986. She first appeared on the TV series Hideaway. She next appeared in the 1988 Hollywood film A Night of Love. In 1990, she played Sam Black in the British show Press Gang, after which she acted in the miniseries The Mystery of the Black Jungle. She went on to appear in the films If Looks Could Kill and Wild Hearts Can't Be Broken.
Afterward, she played a small yet notable role in 1992's Scent of a Woman. She next had notable performances in the movies Body Snatchers, For Love or Money, The Three Musketeers, Things to Do in Denver When You're Dead, and Nevada, among others. In the 2000s, she had roles in the movies The Guilty, The Marsh, and Crazy Eights.
She then portrayed Princess Margaret on the TV series The Tudors. She went on to star as Fiona Glenanne on the USA Network series Burn Notice, which she starred in from 2007 to 2013. More recently, she played Lady Rapunzel Tremaine/Victoria Belfrey on ABC's Once Upon a Time.
Apart from her active lifestyle, English actress Gabrielle Anwar stays in shape by eating clean. To ensure her body gets the nutrients it needs, she focuses on consuming fresh produce. As a general rule, she stays away from processed foods. She prefers everything she eats to be fresh and organic. "I have a little obsessive-compulsive disorder when it comes to produce," she said.
"I feel disinclined to purchase fruits and vegetables that look too pretty. The fact is that produce that's been genetically modified is unappealing to me. It's not pretty. I am always drawn to the spots on apples. I feel cleaner with farm to table and I feel unhealthy, lethargic and overweight when I'm not being careful with my diet."
"I actually have a hard time grocery shopping here," she added. "I frequent local farmers markets as often as I can and I don't buy products with more than 10 ingredients. If I can't pronounce the ingredients, I don't purchase it."