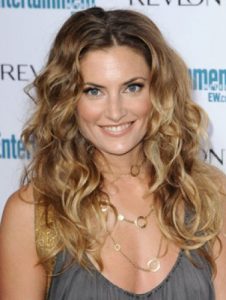 It was in 1989 that Mädchen Amick got her start as an actress. Shortly after, she landed the role of Shelly Johnson in David Lynch's Twin Peaks. After this, she played Carrie Fairchild in the series Central Park West. Subsequently, she played Ariel in Fantasy Island in the late '90s. During the '90s, she also performed in the movies Don't Tell Her It's Me and The Borrower. She later reprised her role as Shelley in the movie Twin Peaks: Fire Walk with Me.
The rest of the '90s saw her star in the movies Dream Lover, Sleepwalkers, Love, Cheat & Steal, and Trapped in Paradise. In the 2000s, she became known for her roles in the TV shows Gilmore Girls, ER, Joey, Freddie, Viva Laughlin, Gossip Girl, Californication, and My Own Worst Enemy. In 2010, she appeared as Danielle Marchetti in Damages. She later joined the main cast of the show Witches of East End as Wendy Beauchamp. In 2017, she began playing Alice Cooper in Riverdale. She also recently reprised the role of Shelly Johnson in Twin Peaks, the 2017 continuation of the 1990 series of the same name.
To maintain her health and fitness, the Riverdale actress makes sure that she stays active on a daily basis. One thing she does to stay fit is yoga, which she said she has been doing for over two decades. She said she began doing yoga after her children were born and it has since shaped her body and overall health. Apart from this, she goes for a 25-mile bike ride with her husband. For workouts at home, she prefers spin session with plyometrics.
"I also love to go for a hike, run or just hit the gym with my kids whenever possible," she added. For her exercising and staying active is part of her balanced living. She explained: "And then always making sure I'm active and exercising in some way. It doesn't mean that I have to go to the gym every single day for two hours and grind it out. Just get out and hike with friends, go swimming with our daughter at the pool…just stay active."