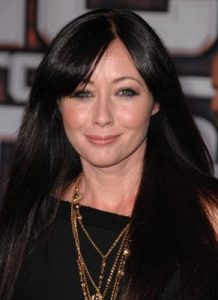 Hollywood actress Shannen Doherty had her career beginnings in the early 1980s. She made her debut on television with the show Father Murphy. She then landed her first starring role as Jenny Wilder in Little House on the Prairie. She later portrayed Kathleen Kennedy in the miniseries Robert Kennedy and His Times. Her next role was as Kris Witherspoon in the show Our House. Also in the '80s, she starred in the movies Night Shift, Girls Just Want to Have Fun and Heathers.
Her major breakthrough came in the 1990s after landing the role of Brenda Walsh in the series Beverly Hills, 90210. She continued her television success later on when she secured the part of Prue Halliwell in Charmed. She played the said role from 1998 to 2001. She also starred in the films Mallrats and Striking Poses. In the 2000s, she mostly worked on TV movies. She also had a recurring role on the show North Shore. In 2010, she appeared in Dancing with the Stars as a contestant. She will appear as a recurring character in the upcoming series Heathers, based on the film of the same name.
The 47-year-old actress states in an interview that she doesn't really follow any diet plan. Unlike many celebrities in Hollywood, she said she prefers to be carefree of what she eats. "I do not diet. I have absolutely no challenge when it comes to diet. I eat everything that I want. I'm a steak and potato girl," she revealed in an interview years ago. However, it's probably not the case anymore. In 2015, it was announced that the actress had breast cancer.
After a series of treatments and a surgery, she announced that her cancer is in remission in 2017. For this reason, Shannen may be more health conscious considering of what she been through. Of course, a nutritious diet is part of her treatment so it's important that she only consumes healthy foods especially ones rich in antioxidants.