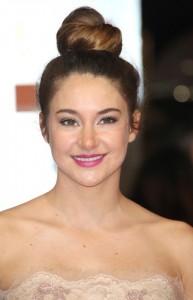 24-year-old Shailene Woodley is now one of Hollywood's hottest and talented young actresses. She has been around since the early 2000s, appearing on various television shows though she only got noticed in 2008 with her lead role in The Secret Life of the American Teenager. This probably led her to land her cinematic breakthrough in the movie The Descendants (2011), which got her a Golden Globe nomination for Best Supporting Actress. Her performance in The Spectacular Now (2013) also earned her acclaim and recognition.
International success soon came by starring as the lead Beatrice "Tris" Prior in Divergent (2014) based on the novel of the same name. Her portrayal of the female lead in The Fault in Our Stars made her a more sought-after actress especially that her performance in the movie was also well-received. She recently reprised her role as Tris in the sequel The Divergent Series: Insurgent (2015). Her upcoming movies are The Divergent Series: Allegiant and Snowden, both to be released in 2016.
It's not a secret that Shailene is one of the few actresses in Hollywood who keeps her looks simple and natural even in red carpet events. Because of this, she even looks more desirable and somehow inspire young women to look as simple as possible, too. The actress is also noted for her being close to nature that many of her lifestyle choices and habits have something to do with being close to nature, literally and symbolically. With this, the actress is fond of organic and fresh foods.
Apparently, she refuses to eat processed and junk foods as she believes it spoils and taints her body. Though it doesn't mean she's never eaten any junk or processed foods, because she has and still does occasionally. She just makes sure she only eats a little. Most of the time, Shailene eats fresh fruits and vegetables from farmers's markets. Some of her favorite fruits are raspberries, strawberries, grapefruits, and pineapples. She also avoids alcohol and salty foods. One interesting fact about the actress is that because of her closeness with nature, she eats clay. She shared that though it felt weird at first, she continued doing so as she's now seeing the long-term benefits.