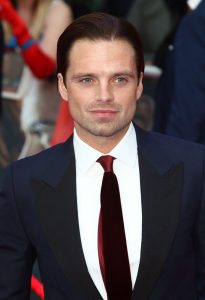 Hollywood actor Sebastian Stan began his career with a couple of roles on the big screen. He appeared in the films The Architect and The Covenant. He also appeared in Rachel Getting Married. On television, he had a recurring role as Carter Baizen on Gossip Girl. His first regular role was on the short-lived series Kings. His major breakthrough was on the cinema. This was after landing the role of Bucky Barnes in Captain America: The First Avenger. He reprised his role in Captain America: The Winter Soldier. He also returned in Captain America: Civil War. He has two upcoming films in 2017. He will also star in the upcoming series I'm Dying Up Here.
The 34-year-old actor is now a well-known figure in Hollywood. This is all thanks to his gig in Captain America films. Before his big role in this superhero franchise, Sebastian had an average-looking body. But with Captain American, he knew he needed to work harder to play his part more effectively. In an interview, he said: "When I got the gig I knew I was going to have to put on some weight, and that has always been hard for me." Interestingly, the actor would drink a cup of coffee before starting his workout session.
As a matter of fact, a little bit of caffeine is good prior to working out, as long as you have sufficient rest and the coffee grounds are organic. Each day, Sebastian would get on a foam roller for 15 minutes and focus on any parts of the body that were tense or tender. This way, he's preparing his muscles for the movements while also gearing up his mind for the entire session. After this, he would do some stretches, such as reach backs, hip flexers and cat and dogs. These help to get his body move more continuously. For 3 days in a week, part of Sebastian's routine was begin with a jump, throw, carry routine to energize his muscles.