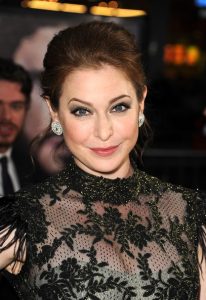 Esmé Bianco is an English actress whose career started in the late 2000s. She first acted in the short film called Dolls. In 2008, she had her first movie role in Chemical Wedding. The following year, she appeared in the films Burlesque Fairytales and Dead Man Running. In the 2010s, she got her first television role in an episode of Any Human Heart. That same time, she had a role in the film The Big I Am.
She next appeared in the made-for-television movie Eric and Ernie. Bianco's first notable role was as Ros in Game of Thrones, which she played recurrently from 2011 to 2013. After her character was killed off, she starred in the TV movies A Christmas Mystery and Ominous. From 2015 to 2018, she also had a recurring role as Jane Chatwin in the Syfy series The Magicians.
She simultaneously starred in the film The Scorpion King 4: Quest for Power. Venturing into voice work, she lent her voice for the role of Queen Eclipsa in the animated series Star vs. the Forces of Evil. In 2018, Bianco appeared as Thara Ak-Var in two episodes of Supergirl. The actress also starred in the feature film Living Among Us.
The 38-year-old actress stays in shape by being mindful of the foods she eats. While she used to be careless when she was younger, being in her 30s has since pushed her to choose healthy meals. She's decided to avoid sugary and starchy foods, which means anything processed. Instead, she has focused on a plant-based diet with the right amount of protein in her daily meals.
She's big on salads and fruits, as well as nuts, which she snacks on in between meals. Shakes also help her feel fuller for longer, which helps her avoid binge-eating. The Game of Thrones actress doesn't necessarily a diet but she makes sure she mostly eats foods that are packed with nutrition.