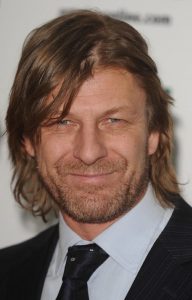 English actor Sean Bean had his career beginnings in the mid-1980s. During his early years, he appeared in the films Caravaggio, Story Monday, How to Get Ahead in Advertising, and The Field. In the '90s, he played Richard Sharpe in the TV films Sharpe's Rifles and the rest of its sequels. He also played Alec Trevelyan / Janus in the James Bond film GoldenEye. He later starred in the movies Anna Karenina and Ronin. In the 2000s, he gained recognition for his role as Boromir in The Lord of the Rings film trilogy.
He also starred in the movies Equilibrium, National Treasure, Troy, Flightplan, The Hitcher, and Outlaw. In the 2010s, he starred in the movies Percy Jackson & the Olympians: The Lightning Thief, Mirror Mirror, Silent Hill: Revelation, Jupiter Ascending, and The Martian, among others. On television, he became best known for his portrayal of Eddard "Ned" Stark in Game of Thrones. He also starred in the shows Missing and Legends. As of 2015, he stars as John Marlott in the series The Frankenstein Chronicles. This year, he also started playing Tom Hammand in the web series The Oath.
The actor is not one to get pressured to put on a six-pack. He exercises but not for the purpose of getting ripped, like many actors in Hollywood today. He said: "Even a regular guy has to have a six-pack now, and that's not realistic to me." He went on to say: "The media portrayal of women is always angled towards looking thinner and skinnier and… that's not good. All this obsession with diets and working out." As an actor, however, he's also required to undergo physical training when his character calls for it.
Such as the case with his roles in Troy and Lord of the Rings. For instance, in Troy, he played a Greek warrior so it was crucial for him to improve his physique. How did he prepare for it? He said: "I did a little bit of training in London, and once we got to Malta we had all these facilities that the production company provided, trainers and everything." He added: "Basically we did a bit of the cardiovascular, then a few weights, and we got quite a
regular routine and by the end, I was really enjoying it."