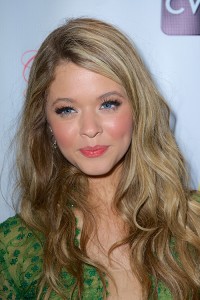 Sasha Pieterse started her acting career at a young age (she was six) by making her debut on television. In the next few years, she continued playing one-episode roles on several television shows. Her first recurring role was in Heroes, while her first main role was in Pretty Little Liars, landing the character of Alison DiLaurentis when she was only 12. This made her the youngest cast on the show as the four other main casts were already in their 20s. Her part on PLL also earned her much mainstream prominence. Simultaneously, she starred in the Disney TV movie Geek Charming. In the movies, she has acted in G.B.F. and Inherent Vice.
Standing at 5'6, the 20-year-old actress was very notable in her portrayal of the antagonistic Alison on Pretty Little Liars, considering she was the only real teenager on the show. With her new-found fame, fans are curious as what her beauty regimen is, seeing that the young star looks flawless and radiant. In an interview, she talked about spending some time on working out like doing cardio and using cosmetics to keep her face moisturized. But amazingly, Sasha also looks to having a clean and simple diet to keep herself fit and healthy.
To achieve this, she mostly eats veggies, particularly dark greens vegetables plus cauliflower to maintain her healthy self. She is also a believer of the benefits of lemons so she makes sure she drinks lemon juice regularly. Because she wants to have balanced meals, she consumes fish like sardines aside from veggies. Additionally, she incorporates beans, cottage cheese, cayenne pepper, wild rice, sweet potatoes, and even citrus toffees into her meals. Being a person in her early 20s, Sasha also craves for some sweets and fast food sometimes, which she also eats but not regularly and while practicing portion control.