Early Career and Success on Television and Film
Sarah Michelle Gellar was born on April 14, 1977 in New York City, U.S. She is the only child of garment worker Arthur Gellar and nursery school teacher Rosellen Greenfield. When she was seven, her parents divorced and she was raised by her mother on the city's Upper East Side.
She studied at Birch Wathen Lenox School and attended Fiorello LaGuardia High School of the Performing Arts, where she graduated in 1995. Her career began when she was spotted by an agent at the age of four in an Uptown Manhattan restaurant. Shortly after, she auditioned for a part in the television film An Invasion of Privacy and was eventually cast as Jennifer Bianchi.
During the mid to late 1980s, she appeared in the films Over the Brooklyn Bridge, Funny Farm and High Stakes, as well as in an episode of the television shows Spenser: For Hire and Crossbow. In 1991, she portrayed young Jacqueline Bouvier in the miniseries A Woman Named Jackie. Her first major acting role came in 1992 after being cast as Sydney Orion Rutledge in the serial Swans Crossing.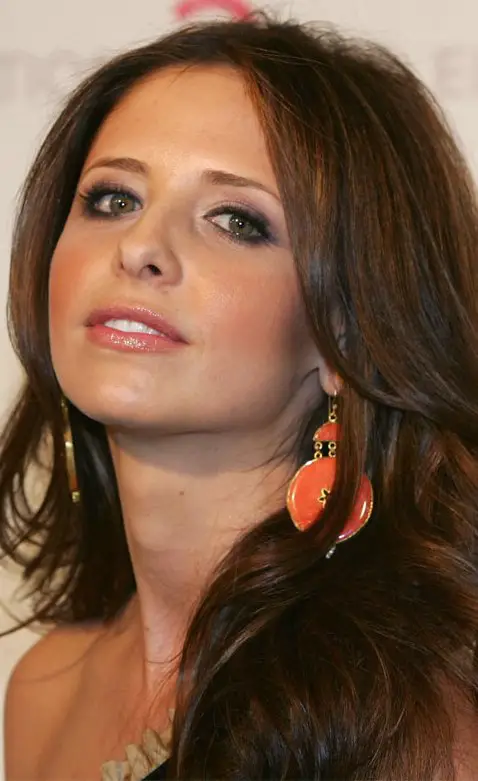 She was later cast as Kendall Hart in the soap opera All My Children. In 1995, when she was 18, she won a a Daytime Emmy Award for Outstanding Younger Actress in a Drama Series for her role in the soap. She also left the show that same year. Two years later, she landed the lead role of Buffy Summers in Buffy the Vampire Slayer. The series was well received by critics and lasted seven seasons.
It was also in 1997 that she played the role of Helen Shivers in the slasher film I Know What You Did Last Summer, alongside future husband Freddie Prinze Jr., Jennifer Love Hewitt and Ryan Phillippe. The movie proved to be a box office success, grossing $125,586,134 worldwide. For her performance, she earned a MTV Movie Award nomination for Best Breakthrough Performance. She also received a Blockbuster Entertainment Award for Favorite Supporting Actress – Horror.
She next starred as Casey "Cici" Cooper in another slasher film, Scream 2. The movie also became a blockbuster hit and garnered positive reviews as well. Because of her consecutive successes on television and film, and after appearing on People magazine's "Most Beautiful" list, her It girl status was further cemented.
In 1999, she appeared in the film Simply Irresistible. The movie, however, garnered negative reviews and did not do well at the box office. She expressed regret for her choice to do the film, saying she was too young and was not ready to make the movie.
Also in 1999, she starred in Cruel Intentions, a modern-day retelling of Les Liaisons dangereuses. The movie was moderately successful at the box office and Gellar garnered highly positive reviews for her performance as a brunette cocaine addict, indulging in her desire to manipulate and use people.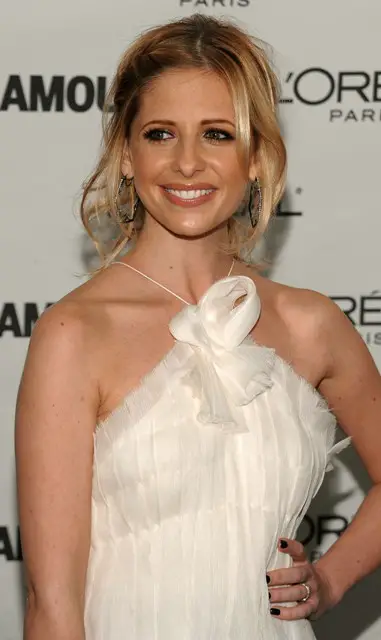 Subsequent Films and Plastic Surgery
Her next film came two years after with the independent film Harvard Man. In 2002, she played Daphne Blake in Scooby-Doo, which garnered negative reviews but grossed $275,650,703 at the international box office. She reprised her role in the film's sequel, Scooby-Doo 2: Monsters Unleashed in 2004. Because of her growing film career, she decided to leave Buffy the Vampire Slayer after the show's seventh season.
Following Buffy the Vampire Slayer, she headlined the 2004 remake of the 2002 Japanese horror film The Grudge. Her performance was well-received and went on to have a worldwide gross of $187,281,115. She then reprised her role in the film's sequel The Grudge 2 in 2006. Later that year, she appeared in the thriller film The Return.
During the next few years, she starred in such feature films as Happily N'Ever After (2007), TMNT (2007), Southland Tales (2007), Suburban Girl (2008), The Air I Breathe (2008), Possession (2009), Veronika Decides to Die (2009) and Freedom Force (2013). Also in 2013, she landed the role of Sydney Roberts in the comedy series The Crazy Ones, opposite Robin Williams.
Gellar, now 36, is also said to have gone under the knife to change her appearance. According to some reports, she underwent a rhinoplasty, which she had during her hiatus some time from 2010 to 2013. Some people think that the actress' nose is now well defined and more sculptured on the nasal bridge than it was before. Plastic surgeon Dr. John Di Saia seemed to agree with the claim, saying that she had at least once before making her comeback.