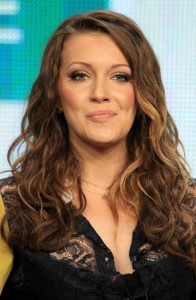 American star Katie Cassidy has seen an entertainment career coming, being the daughter of an actor, though it was in music that she first started her venture in the show business. She immediately followed it with acting roles in both the big and the small screen, making her debut in When a Stranger Calls (2006). Appearing in a few television shows recurrently, she was first noticed as Ruby in Supernatural. In the next few years, she's had main roles in Harper's Island and Melrose Place. She once again played a recurring character in Gossip Girl, though it was in Arrow that she really achieved television success, playing Laurel Lance. Her most recent work on cinema was in The Scribbler (2014).
Standing at 5'7 1/2, Katie's figure is noticeably attractive, making her one of television's popular young actresses. Aside from doing various exercises, the Arrow star also makes sure she eats something healthy. Basically, it's required of her to look fit and lean, as well as feel strong since she plays the Canary in Arrow. This means that she needs to perform action scenes on the show on a regular basis. Naturally, she accompanies her workout sessions with a balanced diet. This means food rich in proteins and veggies especially the green ones, though she basically avoids eating red meat.
According to her, this kind of diet is what she's been following since before and that this has been her personal preference. Interestingly, she eats the same food for breakfast consistently. This consists of smoked salmon, poached eggs, avocado, multi-grain toast, grapefruit juice, and coffee. For lunch, she tries to eat veggies again and mix it with something rich in proteins. Her dinner is the tricky part since it depends on her mood, though she usually has brown rice, pasta, or chicken and some veggies, too.