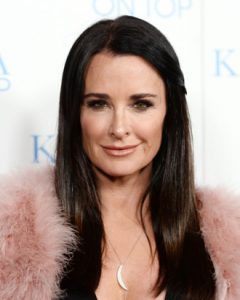 American celebrity Kyle Richards started her acting career in the 1970s. She debuted in an episode of Police Woman. Her first notable role on TV was as Samantha in Little House on the Prairie, which she played recurrently from 1975–1982. In 1977, she made her big screen debut in the movie The Car, followed by the film Eaten Alive. In 1978, she gained recognition for her role as Lindsey Wallace in the horror film Halloween. She next appeared in 4 episodes of Carter Country.
During the 1980s, she starred in the film The Watcher in the Woods and reprised her role as Lindsey in Halloween II. She also starred as Elizabeth 'Lissy' Preston in the TV series Down to Earth and played the lead in the short-lived series Curfew. In the late '90s, she played Nurse Dori in ER. In the 2000s, she became less active in the movies, only appearing in 2006's Pledge This!
Instead, she began a career on reality television, appearing as herself in The Simple Life. Now, she's best known for her work in the reality series The Real Housewives of Beverly Hills, which she's been in since 2010. She also competed in The New Celebrity Apprentice. Her latest film role was in the parody movie The Hungover Games in 2014.
Already in her 50s, the television personality makes efforts to look and feel great. She does this through workouts and healthy eating, of course. "I've always struggled with my weight. I've always worked out and dieted my entire life because I have to, because I'm not naturally thin. So I'm like, 'Well, I've got to do something different so that when I turn 50 I'm gonna feel really amazing'," said Richards
"I don't have a lot of bad things in my diet, I eat really well. But I haven't used Splenda, or like a fake sugar, in — I don't know how many years. I don't ever drink a soda anymore, I used to drink a Coca Cola regularly. So I just want to cut out every single thing bad in my life."