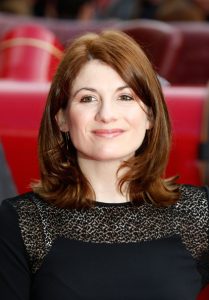 Actress Jodie Whittaker had her career beginnings in the mid-2000s where she started strong with her film debut in Venus. For her performance here, she earned numerous nominations. Following this, she starred in the films St Trinian's, Good, White Wedding, and Perrier's Bounty. She also reprised her role in St Trinian's 2: The Legend of Fritton's Gold. At the same time, she starred in the miniseries Tess of the D'Urbervilles and Wired.
In the 2010s, she appeared in 5 episodes of Marchlands and starred in the TV movie The Night Watch. She then became known for playing Beth Latimer in the ITV series Broadchurch. Simultaneously, she starred in the films Attack the Block, Good Vibrations, Spike Island, Black Sea, and Adult Life Skills. As of 2017, she stars as the new doctor in Doctor Who. She's also had notable roles in the shows The Assets, The Smoke, and Trust Me.
The English beauty maintains her health and fitness by being conscientious of what she eats. Basically, she focuses on eating healthy foods rather than processed ones. It isn't even hard to do for her since eating right and well gives her the energy she needs to work more efficiently as an actress, as opposed to the lethargy she feels whenever she eats unhealthy food items. In the morning, the actress usually eats some cereal for breakfast. Prior to lunch, she has a banana as her mid-morning snack. She also has a latte before lunch.
If she doesn't, she gets a headache. She also talked about her fondness for agave syrup. "I've got such a sweet tooth and always carry agave syrup in my handbag – all my coffees get a squeeze of it," she said. For lunch, she goes for fish stew, especially during cold days. For her mid-afternoon snack, she munches on a cashew Nakd bar. For dinner, according to her, she prefers a "big box of hummus, vine leaves and cold meats from a Greek takeaway near the hotel, with a glass of red wine and a couple of bites of dark chocolate with sea salt."