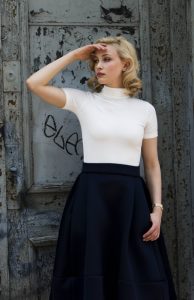 It was in 1998 that Canadian beauty Sarah Gadon started her acting journey. Her first acting gig was in La Femme Nikita. She next appeared in Are You Afraid of the Dark?. Her career became more notable in the 2000s. During this period, she mostly worked on various television shows and a few TV films.She later appeared in the films Charlie Bartlett and Leslie, My Name Is Evil. She also played recurring roles in The Border, Being Erica, and Murdoch Mysteries. In 2010, she played her first regular role on the small screen, as Georgia Bravin in Happy Town.
She first gained attention after playing Emma Jung in the 2011 movie A Dangerous Method. Since then, she starred in the movies The Moth Diaries, Dream House, Antiviral, Enemy, Belle, and The Amazing Spider-Man 2. She played Mirena Țepeș & Mina Harker in the movie Dracula Untold. More recently, she played Sadie Dunhill in the Hulu miniseries 11.22.63. She was then acclaimed for her performance in the Netflix miniseries Alias Grace.
The 31-year-old actress stays in shape by sticking to an active lifestyle. As an actress, she knows how it's important for her to maintain her fitness. Being in the show business, she also prepares her physicality for certain characters in film and television. Talking about her role in 11.22.63, she shared how she improved her posture and how her role got into some physical challenge.
She shared: "Yes, it did! And it was a workout. My first scene with James [Franco] was a dance scene—we're chaperoning a high school dance and we do the lindy hop. It was terrifying, because I had just wrapped another film in New York so I was new on set, and then to work with an icon like James, and to launch into a dance number we learned separately, and wearing a girdle! It was a real cardio workout, dancing around and being thrown into the air."