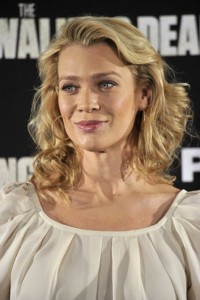 American actress Laurie Holden started her screen career in the 1980s, first on television then eventually on the big screen. After several roles as an actress throughout the 1980s and 1990s, she became known for her recurring character in The X-Files during the late 1990s to the early 2000s. Further recognition came around the same time when she played the female lead to Jim Carrey in The Majestic released in 2001. Throughout this decade, she's had performances in The Mist, Fantastic Four, and Silent Hill. Her most recent movie was Dumber and Dumber To, released in 2014. She returned to television in the 2010s as Andrea in the global hit television series The Walking Dead. Prior to this, she's had notable roles on other TV shows, such as in The Magnificent Seven and The Shield.
The 46-year-old film and television star is still fit and healthy despite nearing her 50s. In The Walking Dead, she played a physically tough character, which highlighted her amazing physical attributes on the screen. Surely, Laurie is careful of her lifestyle; that includes her eating habits since she's not getting any younger. In this aspect, she seems to be taking care of herself pretty good because it shows in her radiance and fitness. Standing at 5'6 ½, she's also able to maintain her slender figure.
Aside from working out, Laurie relies on the foods she eats to help her body get the nutrients its needs. Being not only an actress, but also an activist concerned over social issues in many countries, she needs all the energy she needs to keep up with her busy schedule. To make it happen, she doesn't really eat meat and stays away from foods rich in carbs, believing these aren't very good for her. Instead, she has whole-grain cereal, fish, and her meals are mostly with parmesan, manchego, and oregano and rosemary. For snacks, instead of eating junk foods, she has yogurt. In addition, she practices portion control to make sure she doesn't gain unnecessary weight.