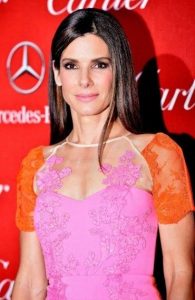 Hollywood star Sandra Bullock got her beginnings in the 1980s, making her debut in the movie Hangmen. Her career flourished in the '90s where she was first noticed for her supporting role in Demolition Man. She went on to gain fame for her starring roles in the movies Speed, While You Were Sleeping, A Time to Kill, Practical Magic, and Forces of Nature. In the 2000s, she achieved greater success for her lead role in the action-comedy film Miss Congeniality.
She reprised her role in the sequel Miss Congeniality 2: Armed and Fabulous. She then starred in the Hollywood films Two Weeks Notice, Murder by Numbers, and The Lake House. Her portrayal of Leigh Anne Tuohy in the drama film The Blind Side won her the Academy Award for Best Actress. In the 2010s, she starred in the movies Gravity, Extremely Loud & Incredibly Close, The Heat and Our Brand Is Crisis. This year, she stars as Debbie Ocean in the newly released Ocean's 8. She also voiced Scarlet Overkill in the 2015 animated film Minions.
Apart from sticking to a healthy diet, the 54-year-old actress maintains her toned figure by following a workout routine. She's pretty disciplined when it comes to taking care of her body and prepping her physique for certain roles that she has to play on the screen. For one, the A-lister keeps her body fit and healthy by working with celebrity trainer Simone De La Rue. Her workout regimen typically involves "full-body workout that includes cardio, such as dance or jumping rope".
In an interview, the trainer shared how she trains Bullock to achieve her amazing physique. For sculpting the actress' shoulders, she uses what she calls the one-armed Superwoman press. "It targets the muscles in the shoulders, along with those in the upper back and chest, for long, lean definition," she said. The trainer also uses methods involving "resistance bands with handles and a seven-inch Pilates ball."