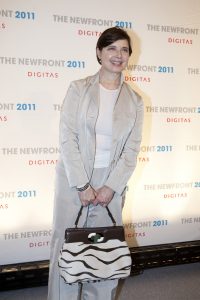 Actress Isabella Rossellini had her entertainment debut playing the role of Sister Pia in the 1976 film A Matter of Time. Her breakthrough came during the 1980s, during which she first appeared in the films In the Pope's Eye and White Nights. Rossellini came to prominence for her role as Dorothy Vallens in David Lynch's Blue Velvet. She won the Independent Spirit Award for Best Female Lead for her performance.
She then starred as Mae in the television series The Tracey Ullman Show, which aired from 1989 to 1990. After this, she had roles in the TV films Ivory Hunters and Lies of the Twins. She also worked with Lynch again with the 1990's Wild at Heart. Later in 1992, she starred in Robert Zemeckis' Death Becomes Her. In 1996, she played Anna Hauptmann in the TV movie Crime of the Century. For her role, she was nominated for a Golden Globe for Best Actress.
Her guest role as Professor Marina Giannini in Chicago Hope also garnered her a Primetime Emmy nomination. Other film roles in the 1990s include Fearless, The Innocent, Immortal Beloved, Wyatt Earp, and The Impostors. In the following decade, she starred in several features, which include Empire, Roger Dodger, Heights, and King of the Corner, among others. She also played recurring role Katya Derevko in Alias. More recently, she starred as Rita in the Hulu series Shut Eye.
Isabella Rossellini knows what she needs to do keep herself fit and healthy – focus on eating organic foods. "I have an organic farm. I eat organic food not to look younger but to preserve my health," said the actress. She also tries to stay active by walking a lot. "I walk a lot, four, five kilometres per day including indoors if the weather does not permit it. The countryside is very restorative. It lets you slow down the rhythm and isolate yourself."