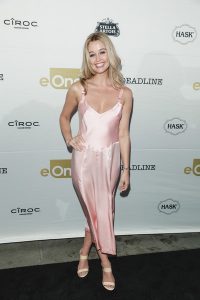 Actress Kate Corbett had her career beginnings in her native Canada in 2009. She debuted with a starring role as Avalon Keller in the Canadian series Family Biz. The following decade, she had one-time roles in InSecurity, The L.A. Complex, Satisfaction, Call Me Fitz, Republic of Doyle, and Signed, and Sealed, Delivered. Afterward, she appeared as Stacey in 2 episodes of the popular Canadian show Lost Girl.
Meanwhile, she had also started a film career as well. In 2013, she made her debut in the movie Empire of Dirt, instantly followed by the movie The Animal Project. She also continued making guest appearances in such TV shows as Odd Squad and Fargo, the latter of which she played Gloria Wuddle in 3 episodes.
Simultaneously, she starred in the film The Steps. More importantly, she gained recognition for her recurring role as Eve in Good Witch. Her next work was in the TV movie For Love & Honor and a guest role in Murdoch Mysteries. She became more active on the big screen recently. She had a small role in the 2018 film The Silence and will play a role in the upcoming horror movie It: Chapter Two.
To stay in shape, the Canadian beauty eats healthy. At least most of the time she does. She's able to maintain her slender figure because she's cut down on sugary food and drinks. In general, she also makes tremendous efforts to avoid fast food and other processed meals. Her goal is to eat clean, whole foods as frequently as possible.
Moreover, her diet plan typically consists of lean proteins, fruits and veggies, whole grains, and healthy fats. To consume more fruits and vegetables, she has smoothies in between meals. They're also her go-to snacks. She has a cheat day, too. It's also important for her to be able to eat whatever she wants but in moderation.