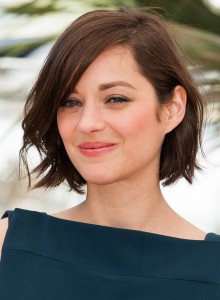 French actress Marion Cotillard began her acting in France and achieved fame there first before getting internationally known courtesy of her portrayal of French singer Édith Piaf in La Vie en Rose released in 2007. Her performance in the said film garnered her widespread acclaim and got her the Academy Award for Best Actress, as well as the BAFTA and the Golden Globe. Afterwards, she was cast in starring roles in such feature films as Public Enemies, Nine, and Inception. She continued this feat in the 2010s with starring performances in Midnight in Paris, Contagion, and went on to portray Talia al Ghul in The Dark Knight Rises (2012). She has also received acclaim for her performances in Rust and Bone (2012) and Two Days, One Night (2014). For the latter, she was nominated for an Oscar for Best Actress. She recently starred in The Little Prince released in 2015.
Standing at around 5'6 1/2, the French beauty has a slender figure and is remarkably fit despite being in her 40s and being a mother of one from her relationship with fellow French actor Guillaume Canet. To maintain her slender figure and overall health, which are both crucial to her line of work as an actress, Marion practices a specific dietary regimen. For one, she only allows herself to consume 1500-2000 calories per day. She refuses to drink alcohol for six days in a week and is fond of protein shakes as dietary alternatives.
Since she practices such diet for six days, Marion allows herself to eat and drink whatever she wants on the seventh day, which most people call their cheat day. Amazingly, she mostly eats fresh and locally-produced foods to make sure her body gets only the purest nutrients. This is probably one of the reasons why Marion was able to lose her baby weight only two weeks after giving birth to her first son, Marcel, in 2011.