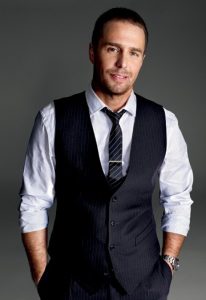 American actor Sam Rockwell started his Hollywood career in the late '80s. He became more active in the '90s with minor roles in some films. After stints in Glory Daze and Mercy, he got his first lead role in the movie Lawn Dogs. He next played a supporting role in The Green Mile. He continued his career in the 2000s with a role in Charlie's Angels as well as the lead in Confessions of a Dangerous Mind. Other films in the 2000s are Matchstick Men, The Hitchhiker's Guide to the Galaxy, and Choke. In the 2010s, he had lead roles in Seven Psychopaths and Mr. Right. He also played supporting parts in Iron Man 2, Conviction, and Cowboys & Aliens.
The 48-year-old actor looks years younger than his actual age. This surely has something to do with his healthy lifestyle. Aside from eating right, the actor takes care of his body by working out regularly. As an actor, he knows he needs to maintain his fitness in order to keep landing jobs. Of course, he needs to be fit and healthy in order to have the energy to play his roles more efficiently. Obviously, Sam has a great body with his toned physique. In an interview about his workout regimen, he said:
"I've done every type of workout you can imagine, from boxing to SoulCycle to yoga. I've been getting physical therapy — I have a tennis elbow from boxing. My trainer has me on this thing called the Jacob's Ladder. It's the hardest thing I've ever done on a machine — cardio and strength-wise, it's comparable to swimming or basketball. It's intense. It kicks any spinning class' ass." It clearly shows that the actor is active when it comes to his physical exertions. He doesn't let his body stay idle for too long. It's important for him to keep moving to test his strength and stamina.