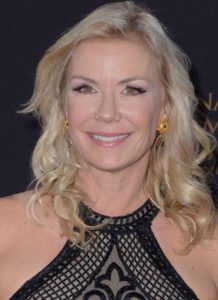 Hollywood actress Katherine Kelly Lang debuted in the 1979 comedy film Skatetown, U.S.A. During the 1980s, she gained recognition for her role as Brooke Logan in the soap opera The Bold and the Beautiful. She still stars on the show up to now, which makes her one of its original cast. Overall, she's been with the program for more than thirty years.
Also in the '80s, she starred in the made-for-television films Desperate Lives and Mr. Boogedy. She later starred in the thriller film The Night Stalker. During the 1990s, she starred in the movie Till the End of the Night, as well as performed in the TV film Subliminal Seduction. In the 2010s, she also became more active on reality television.
She was a contestant of Ballando con le stelle, Italy's version of Dancing with the Stars for its 10th season. She later guest-starred in the long-running Australian soap opera Neighbours. She next appeared in the game show Have You Been Paying Attention?. After a guest appearance in the South African show Isidingo, she also joined the reality series I'm a Celebrity…Get Me Out of Here! as a contestant.
The 58-year-old actress stays in shape by choosing her foods wisely. Basically, she acknowledges the importance of healthy eating habits. "Healthy proteins like yogurt, egg whites, lean meat and bean or lentils help a lot with recovery time. Fruits with potassium and anti-oxidants, such as bananas and blueberries are also excellent before training to help keep my muscles from cramping during strenuous work-outs," said the actress.
Her meals are typically composed of clean, whole foods. For breakfast, she likes to have yogurt, blueberries, and banana. These keep her full with high energy levels throughout the day. For lunch, it's typically lean chicken breast, kale, and sweet potato. Her last meal of the day is usually grilled fish, steamed veggies with a side of quinoa and a few cherries for dessert. The actress loves to cook but she mostly prefers steaming and grilling to preserve the foods' nutrients.