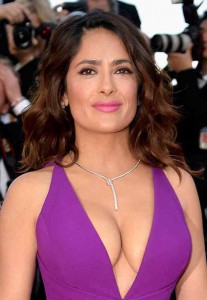 Mexican-American actress Salma Hayek may be in her late 40s but she surely doesn't look like one. Can you believe she's turning 50 next year? Starting her career in Mexican soap operas, she ultimately moved to Hollywood and found success for her roles in Desperado, Dogma, and Wild Wild West, all released in the 1990s. It was, however, her portrayal of Frida Kahlo in the movie Frida that got her substantial attention she needed to establish her status in Hollywood as an actress. The role not only secured her Hollywood prominence, it also placed her as a top-caliber actress with Oscar and Golden Globe nominations for Best Actress. Subsequent notable movies are Spy Kids 3-D: Game Over, Once Upon a Time in Mexico, After the Sunset, and Grown Ups. Most recent work on cinema are Americano, Savages, and Grown Ups 2.
Having a curvaceous figure, Salma gained notice abroad not only for her body and beauty but also for her confidence and knack for acting. Interestingly, the actress is a food lover and considers food as her weakness. She relishes on eating her favorites that she sets some sort of limit to herself so she can manage her weight and make sure she doesn't over indulge. She said: "Everybody has a weakness (and) mine is food. If you love food and you love red wine and they put you in France, you're in a good place and you're in a bad place at the same time. You have to weigh yourself every day, and you have to have an alarm number. When you get to that number, you have to start putting it in reverse."
Also, Salma admitted that dieting is not for her as she turns to food whenever she feels stressed. Eating her favorites makes her feel relaxed, but it doesn't mean that she's not cautious, because she is, especially after giving birth. She mostly likes eating carrots and apples as they're rich in antioxidants as well as Vitamin A. When she can't eat them, she drinks them instead by turning them into fresh juices. That being said, Salma is also into juice cleansing, which is probably one of her secrets why she looks so youthful.