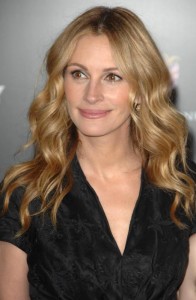 The Pretty Woman actress Julia Roberts became a full-pledged movie star after starring in the aforementioned movie, which was released in 1990. Prior to this, she already starred in the movie Steel Magnolias (1989) and got an Oscar nomination for Best Supporting Actress while winning the Golden Globe for the same category. All throughout the 1990s, she headlined the movies Sleeping with the Enemy, Hook, The Pelican Brief, My Best Friend's Wedding, Conspiracy Theory, Notting Hill, and Runaway Bride. She continued her big screen success with notable performances in Ocean's Eleven, Ocean's Twelve, Valentine's Day, and Eat Pray Love. Most recent films are Mirror Mirror and August: Osage County. She's also an Oscar-winning actress for her lead role in Erin Brockovich.
Everyone knows Julia for her remarkably classic smile and her overall confidence not just as an actress but as a person in general. It's also amazing how she looks fabulously good despite nearing her 50s. Her being fit and healthy has something to do with her healthy lifestyle. In addition to working out with fitness guru Kathy Kaehler, Julia practices a five-day cleanse, in which she takes a meal replacement shake that is low glycemic and full of fiber. This way, she feels full without the need to eat a lot, helping her not only to manage her weight but to be strong and healthy on the inside-out.
Julia is also fond of cooking meals at home to make sure she serves healthy food not only to herself but to her family as well. She said: "It's my privilege and honor to cook three meals a day for my family, and it's a luxury on a level that I didn't even realize, because it can be relentless for me on some days. You have pride in how you take care of your family." As expected, she prefers on munching healthy snacks rather than eating junk foods.