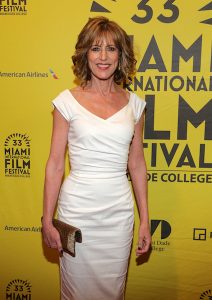 Hollywood actress Christine Lahti had her career beginnings in the late 1970s, debuting with a recurring role in the TV series The Harvey Korman Show. She later made her cinematic debut in the 1979 film …And Justice for All. Later in the 1980s, Lahti rose to fame for her performance as Hazel Zanussi in the movie Swing Shift. For this, she received Academy Award and Golden Globe nominations for Best Supporting Actress. She next portrayed Alethea Milford in the miniseries Amerika, gaining a Primetime Emmy nominations for Outstanding Supporting Actress.
After this, she starred in the film Running on Empty, for which she was nominated for a Golden Globe for Best Actress. In the '90s, she starred in the films Funny About Love, The Doctor, Leaving Normal, Hideway, and Pie in the Sky. It was also during this period that she starred as Dr. Kathryn Austin in the TV series Chicago Hope. Her work here won her a Primetime Emmy and Golden Globe for Best Actress once. The following decade, she mostly starred in television movies.
She went on to star as Grace McCallister in the drama series Jack & Bobby. At the same time, she had roles in the films My First Mister, Smart People, Yonkers Joe, and Obsessed. Between 2009 and 2011, she played recurring part Sonya Paxton in Law & Order: Special Victims Unit, as well as played Doris McGarrett in Hawaii Five-0. She then starred as Laurel Hitchin in The Blacklist. She currently stars as Sheryl Luria in the new series Evil. In the movies, her most recent work was in 2019's A Beautiful Day in the Neighborhood.
Christine Lahti stays in shape by sticking to an active lifestyle. She considers working out as her source of energy, aside from caffeine. "I love indoor cycling, outdoor cycling and going to the gym. I exercise at least 6 days a week doing something. Endorphins are my favorite addiction. After popcorn. I also find when I'm the most creatively stimulated, I have tons more energy," said the actress.