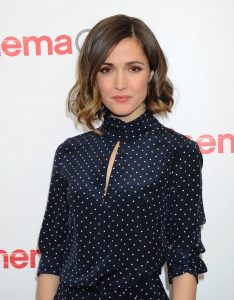 It was in 1994 that Aussie actress Rose Byrne started her acting journey. Her first role in a film was in 1994's Dallas Doll. The rest of the '90s saw her made guest appearances in a couple of shows. In the 2000s, her movie career became more prolific. First, she had a minor role in the film Star Wars: Episode II – Attack of the Clones. She also starred in the Australian film The Goddess of 1967. She later made starring roles in the films Troy, Wicker Park, Marie Antoinette, Sunshine, and 28 Weeks Later.
She also played female leads in the movies Knowing and Adam. In the 2010s, she starred in the comedies Get Him to the Greek, Bridesmaids, and I Give It a Year. She also starred as Renai Lambert in the horror films Insidious and Insidious: Chapter 2. She starred in many other comedies like Neighbors and Neighbors 2: Sorority Rising. She also became known for starring as Moira MacTaggert in X-Men: First Class and X-Men: Apocalypse. Her latest movie is this year's Juliet, Naked.
The 38-year-old star stays in shape by sticking to an active lifestyle. She loves moving around and getting herself perform physical activities. Being an actress and a mother, she admits she's naturally busy and on-the-go. But what is really Rose's fitness secret? For one, she tries not to be so crazy about it. In an interview, she said: "I'm not too fanatical about it. I've been trying to get back to the gym more. I've just gotta get more motivated."
She went on to say: "In New York it's good 'cause you're walking a lot and that really does help 'cause you're just walking constantly, so it's a boring answer, but it's true." There's also this one thing that gets her moving around, which helps her exercise her body. This also helped her shed extra pounds after giving birth: shopping. The actress admitted he got addicted to shopping for her little one. Surely, all the walking really helped her lose weight.