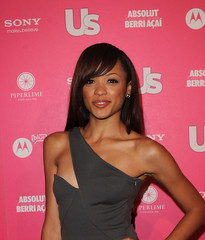 Actress and model Sal Stowers first appeared in the 2006 film Talking with the Taxman About Poetry. She next appeared as a model in 2 episodes of Ugly Betty. The following year, she competed in the 9th cycle of America's Next Top Model, ultimately winning the title. She then established a successful modeling career, appearing on print and TV ad campaigns, as well as fashioh shows.
In the 2010s, she started working on television as an actress, starting with a small role in an episode of The Exes. That same time, she guest-starred in one episode of Mr. Box Office and New Girl. Her breakthrough role was as Cassandra Foster in the soap opera All My Children. She next guest-starred in Switched at Birth and Major Crimes.
She then gained the part of Lani Price in Days of Our Lives, a role she has been playing since 2015. Simultaneously, she appeared as Shawna Carlson in some episodes of the show Caged. Stowers also appeared in Michael Bolton's Big, Sexy Valentine's Day Special and The Fosters. In 2017, she had her first starring movie role in Tomboy.
In an interview, the soap opera star got candid about her healthy habits. Apart from her clean and nutritious diet, she follows a regular workout routine.
"I work out like crazy. Even if I'm on set, I tend to always work out about four days a week. I do switch it up because you don't want to keep doing the same thing. I always do a warm-up first, some dynamic stretching or some foam rolling," said the actress.
She went on to say: "Maybe I'll jump on the treadmill for about five minutes and do a nice, brisk power walk just to get my body warmed up because you never want to start working out with cold muscles. Boxing is one of my favorites. I feel it's a really quick way to kind of shred the body."