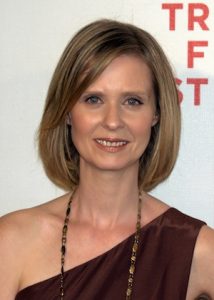 Cynthia Nixon's career in Hollywood spans decades. In 1980, she made her film debut Little Darlings. The rest of the '80s also saw her appear and act in the films Prince of the City, Amadeus, and The Manhattan Project, among others. She also starred as Alex Tanner in the miniseries Tanner '88. During the 1990s, Nixon had performances in such films as The Pelican Brief, Addams Family Values, and Baby's Day Out, as well as in the miniseries Love, Lies and Murder.
She came to mainstream prominence in the late '90s as a result of her getting cast as Miranda Hobbes in Sex and the City. Airing on HBO from 1998 to 2004, the show is Nixon's greatest project thus far. It also spawned the movie sequels Sex and the City: The Movie in 2008 and Sex and the City 2 in 2010. Her other film roles include Igby Goes Down, Little Manhattan, The Babysitters, and An Englishman in New York.
She also continued her hectic TV career – she played Rebecca in The Big C, Petronilla in World Without End, Carly Armiston in Alpha House, and Kade Prurnell in Hannibal. In 2016, she played Nancy Reagan in the TV film Killing Reagan. Just recently, she starred as Gwendolyn Briggs in the psychological series Ratched. Nixon also portrayed Emily Dickinson in the biographical film A Quiet Passion. Her latest role on the big screen was in Stray Dolls.
Cynthia Nixon remains fit and healthy because she eats clean and makes constant efforts to exercise as regularly as possible. She, however, admits that her fitness regimen depends on her current circumstances. "What I do for exercise sort of depends on what's happening in the rest of my life," said the actress. As a mother, she confessed to having less time to work out when she just had her third child years ago.
"Before he was born, I was doing a lot more yoga, but that can be kind of time-consuming. But now what I'm doing is a thing called slow burn, which is, under the supervision of a trainer, I get on machines and I move very large amounts of weight very slowly," the actress shared. "The great thing about that is that it's really time-effective. I can only do that — at most — two times a week for half an hour each time."