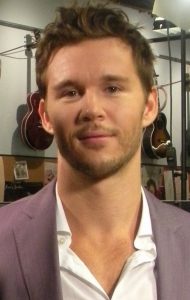 Aussie actor Ryan Kwanten first appeared as an extra in The Case-Book of Sherlock Holmes. That was back in 1991. After this, he made credited, one to two-episode roles in such television shows as Home and Away, A Country Practice, G.P., and Water Rats. In 1994, the actor made his film debut in Signal One. Between 1997 to 2002, he gained recognition in Australia for playing Vinnie Patterson in Home and Away. Kwanten also starred as Josh Morgan in the TV series Spellbinder: Land of the Dragon Lord.
In the 2000s, he starred in the film Liquid Bridge. This was also during this time that he pursued a career in the US, first appearing in an episode of Tru Calling. He next starred as Jay Robertson in the drama series Summerland, after which he starred in the films Flicka and Dead Silence. Soon after, Kwanten came to prominence after securing the role of Jason Stackhouse in the HBO series True Blood. He was part of the show's main cast in all its seven seasons, which aired from 2008 to 2014.
While on the show, he also guest-starred in Law & Order: Special Victims Unit, New Girl, and Jake and the Never Land Pirates. He then starred in the films Red Hill, Griff the Invisible, Don't Fade Away, Not Suitable for Children, Mystery Road, The Right Kind of Wrong, and Knights of Badassdom. More recently, Kwanten starred in such movies as Who Gets the Dog?, Supercon, The Hurricane Heist, and Kill Chain. As of 2018, he stars as Steve Hammond in the web series The Oath.
Ryan Kwanten spent a great deal of time shirtless in True Blood, which for sure motivated him to work harder in terms of his physical training. Even with the show over, the actor still exerts efforts to keep in shape. His workout routine typically involves high-intensity training which combines bodyweight workouts like chin-ups, squats, and burpees. He's also joined in marathons and even triathlons.