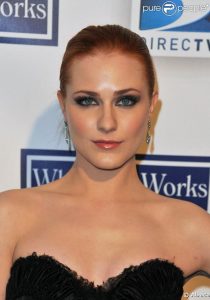 Hollywood actress Evan Rachel Wood first gained recognition among television viewers courtesy of her role on the TV series American Gothic and Once and Again. In between her work on television at a young age, she starred in the movie Digging to China at age nine. Some years, her transition to a more adult-oriented role in the teen drama Thirteen got her critical applause. Subsequently, she worked on independent movies like Pretty Persuasion, Down in the Valley, and Running with Scissors before headlining the major Hollywood production Across the Universe. Her other work in mainstream cinema were The Wrestler and The Ides of March. She went on to return to the small screen when she played a recurring character on True Blood, as well as on the miniseries Mildred Pierce. For her performance in the latter, she was nominated for an Emmy and a Golden Globe for Best Supporting Actress.
The beautiful actress becomes more cautious when it comes to taking care of herself. As a mother of one, it becomes more crucial for her to practice healthy habits on a regular basis. She recognizes the fact that focusing on her healthy lifestyle is not only for her to maintain her beauty, but also to ensure that she stays strong and energetic. For her, it's really her health and fitness that matters more. Aside from her self-imposed discipline to exercise and to be physically active as well as she can, she's also a very healthy eater.
She believes that eating clean and healthy is a very effective way to stay radiant and beautiful, more than using cosmetics. She thinks that feeling beautiful from the inside is what makes one beautiful on the outside. In an interview, when asked about her beauty secrets, she simply quipped that it's eating clean and eating healthy daily. She mostly eats right, which means that she chooses the food she consumes and practices moderation when eating. She eats lots of green veggies, too. No wonder her skin is radiantly pretty. Of course, another secret is that she keeps herself hydrated all the time, that's why she drinks lots of water.