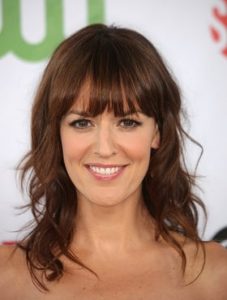 Rosemarie DeWitt first appeared in an episode of Law & Order: Special Victims Unit back in 2001. Some years later, she had her first movie role in Fresh Cut Grass. She later had performances in the films The Great New Wonderful, Cinderella Man, Off the Black, and Afterschool. Her titular character in the drama film Rachel Getting Married earned her critical praise. She received several nominations, including the Independent Spirit Award for Best Supporting Female.
She also became known for her work on television, playing Emily Lehman in Standoff and Midge Daniels in Mad Men. She later landed the starring role of Charmaine Craine in United States of Tara, which she starred in from 2009 to 2011. After this, she starred in the movie Your Sister's Sister, which also earned her an Independent Spirit Award nomination.
She later had starring/supporting roles in the films The Odd Life of Timothy Green, Nobody Walks, The Watch, Promised Land, Touchy Feely, Men, Women & Children, Kill the Messenger, Digging for Fire, and Poltergeist. Between 2016 and 2017, she starred as Rose Brady in the television series The Last Tycoon. At the same time, she had performances in the films La La Land, Sweet Virginia, Arizona, Song of Back and Neck, and The Professor. This year, she starred as Linda McCullough in the miniseries Little Fires Everywhere.
Rosemarie DeWitt keeps in top shape by eating well and sticking to her workout routine. She generally lives an active lifestyle, which she also considers as means of exercising. Her work as an actress also keeps her on the go. Her workout routine typically combines cardio, stretches, yoga, and Pilates. She also spices things up by trying other classes. The fitness regimen she follows isn't only something she does for her body, she also exercises for her mental health.