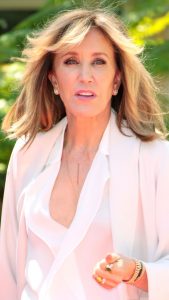 Hollywood star Felicity Huffman had her career beginnings in the 1970s. She first debuted in an episode of ABC Afterschool Special back in 1978. Her first movie role came during the 1980s with the 1988 film Things Change. The following decade, she had roles in the films Reversal of Fortune, Quicksand: No Escape, and Hackers, among others. In the late 1990s, she gained wider recognition for starring as Dana Whitaker in the television series Sports Night.
For her performance, she received a Golden Globe nomination. Later, she became further known for her role as Lynette Scavo in Desperate Housewives, which won her the Primetime Emmy Award for Outstanding Lead Actress in a Comedy Series in 2005. Simultaneously, she starred as Sabrina 'Bree' Osbourne in the film Transamerica, gaining her an Academy Award nomination for Best Actress and a Golden Globe win.
In the 2010s, she is best known for her roles in American Crime. Her work here also earned her Primetime Emmy nominations from 2015 to 2017. This year, she portrayed Linda Fairstein in the miniseries When They See Us. Also in the 2010s, she had performances in the films Trust Me, Rudderless, Cake, Stealing Cars, Krystal, and Otherhood. Also, she starred as Special Agent Clara Dillard in the comedy-drama series Get Shorty.
The 57-year-old actress swears by a probiotic regimen, which she said has since helped her stay in shape and maintain her health. Apart from a clean diet, she also follows an active lifestyle consisting of her fitness regimen. Felicity Huffman's workout routine is a combination of cardio, yoga, circuits, and weight training. "I run quite a bit, but now I'm doing more and more yoga because of my knees — I know they have a shelf life," said the actress. "And I do circuits and weight training, so I do a little bit of everything."