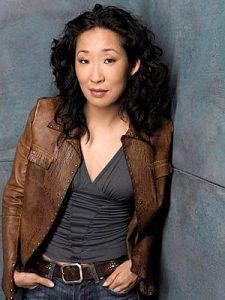 It was in 1989 that actress Sandra Oh got her start in the show business. By the '90s, she's able to land more roles both on film and television. She played the title role in the made-for-television film The Diary of Evelyn Lau. She also starred as Rita Wu in the American sitcom Arliss. While on the show, she had roles in the films Bean, The Red Violin, Guinevere, Waking the Dead, Dancing at the Blue Iguana, The Princess Diaries, and Big Fat Liar, among others.
She also played Detective Shelly Tran in the show Judging Amy and Marsha Mitsubishi in The Proud Family. She also had supporting roles in the films Under the Tuscan Sun, Sideways, and Hard Candy. She rose to greater fame after landing the part of Dr. Cristina Yang in Grey's Anatomy, which she played from seasons 1-10 until 2014. As of 2018, she plays the lead int he BBC drama series Killing Eve. She's also recently starred in the movies Catfight and Meditation Park.
The actress works out to feel good and healthy at the same time. She's been in the show business for too long so her healthy habits aren't just for the sake of looking good but to feel beautiful on the inside, too. She's also admitted that she's had body image struggles before but that she's past it already. Her advice for other women with the same issues? "Focus on what makes you feel healthy and strong. Is it eating healthy? Is it overcoming your embarrassment and taking that hip-hop booty shaking class (Yep, did it)? Is it carving out time for yourself to go on a walk and quiet your mind? Feeling healthy and strong are achievable in our daily life," she said.
As for her go-to workout routine, she revealed: "I take pilates regularly and pair that with a type of tailored circuit training class at Dove's Bodies. I've had the same trainer for over 20 years, Dove Rose (yes that's her actual birth name). I also live near a canyon, so I like to get out there and hike when I can."