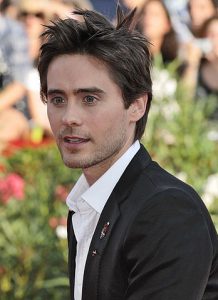 Jared Leto is an American actor who is best known for his notable roles in Hollywood films. Prior to gaining mainstream stardom, he played minor to supporting parts in a couple of films, like in Fightclub and Lord of War, while he also acted in indie movies. He was then significantly noticed for his performance in the drama film Requiem for a Dream, where his portrayal of drug addict earned him acclaim. He went on to venture into music, fronting the band 30 Seconds to Mars, which also found mainstream success. Despite his busy musical career, Jared continued to act in mainstream productions. Proving his huge talents, he won the Academy Award for Best Supporting Actor for his performance in the movie Dallas Buyers Club. This year, he will play The Joker in the much-awaited movie Suicide Squad where fans of the character are all waiting if he could pull off the character like how the late actor Heath Ledger did.
Jared may not be as buff as other actors with very large muscular structure, but he's muscular enough since his body form is in proportion with his height. The actor is also known for going great lengths for his movie roles, just like when he lost so much weight for his role in Requiem for a Dream. On the contrary, he gained 67 pounds to play Mark David Chapman in the movie Chapter 27. How did he achieve this? By drinking microwaved pints of ice cream mixed with soy sauce and olive oil every night. The actor admitted that gaining so much weight was harder than losing weight.
His sudden gaining of weight resulted to him having gout. He even had to use a wheelchair because his body was stressed with the abrupt accumulation of fats. After the movie, Jared began fasting and eventually returned into his normal weight. In an interview, he said: " I've been doing this very strange, like, lemon and cayenne pepper and water fast. I didn't eat any food for 10 days straight; I think I lost 20 pounds that first 10 days." He has since observed a healthy diet plan.