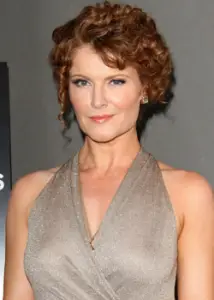 Hollywood actress Rebecca Wisocky had her beginnings in the late 1990s. She made her debut in the independent film The Fountain of Death. In the 2000s, she became active on television, first making guest appearances in the TV shows Sex and the City, Third Watch, and Law & Order: Criminal Intent. She also played Dorothy Seiberling in the movie Pollock. She next appeared in the films Funny Money and The Picture of Dorian Gray.
During this period, she made guest appearances in various shows. In the 2010s, she had recurring characters in The Mentalist and 90210. She later played Lorraine Harvey in the series American Horror Story: Murder House. From 2013 to 2016, she gained wider recognition for her role as Evelyn Powell in the series Devious Maids. Following this, she guest starred in an episode of the series The Sinner. Also in the 2010s, she has appeared in the movies Atlas Shrugged: Part I and Hello, My Name Is Doris.
The 46-year-old actress stays in shape by eating right. Her diet plan mostly consists of healthy foods that not only makes her maintain her slender figure but also improves her overall well-being. In an interview, she was asked what kind of diet she follows. She went on to say:
"I crave mostly veggies, rice or quinoa, and lean protein, try to minimize dairy, sugar, wheat, soy, and red meat. I'm lucky that I'm not a hard pasta or bread craver, but I try to avoid sugar. If you listen to your body, it will probably tell you what it needs but, of course, it's easy to lie to yourself." Even her snacks are healthy ones. She said she loves snacking on nuts, especially pecans. She also makes sure that her foods are organic and non-GMO. "Organic and non-GMO. Organic especially when consuming a package like blueberries, apples, and greens," she said.