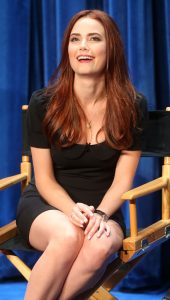 It was in 2014 that actress Rebecca Rittenhouse started her career. She debuted in an episode of The Affair. That same year, she had her first starring role on television as Brittany Dobler in Red Band Society. After its cancelation, she starred as Cody LeFever in the primetime soap opera Blood & Oil. She later got the recurring role of Dr. Anna Ziev in the comedy series The Mindy Project.
This was followed by a performance in the TV movie Real Life. She also landed one-episode roles in Suits, The Handmaid's Tale, Into the Dark, and The Good Cop. During this period, she also began her cinematic career. She debuted in the 2018 film Don't Worry, He Won't Get Far on Foot, as well as appeared in the movie Unfriended: Dark Web.
She will star as Ainsley Howard in the upcoming miniseries Four Weddings and a Funeral. Created by Mindy Kaling, the show will premiere on Hulu. In the movies, she recently appeared in Quentin Tarantino's 2019 film Once Upon a Time in Hollywood.
Apart from a healthy diet plan, the actress maintains her overall fitness by working out as regularly as she could. While it's always hard for her to get consistent with her routine, or to find the motivation to frequent the gym, she really tries her best. Whenever she's busy with work, she makes up for it by taking long walks, taking the stairs when doing errands or going out for a run even for just 10 minutes.
She enjoys having an active lifestyle. Not only does it help her stay in shape, but exercise also greatly helps her reduce stress. It's not only physically beneficial, but it's also great for her mental health, too. That's why she has since incorporated working out into her everyday lifestyle. Some of her go-tos are yoga and Pilates.