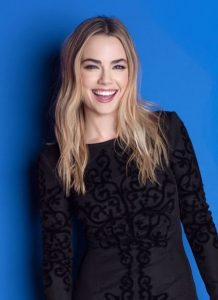 Hollywood star Rebecca Rittenhouse had her career beginnings in the 2010s. Prior to moving her career onto the screen, she first performed on off-Broadway productions. She made her screen debut in the 2011 short film Philadelphia, Ti Amo. A few years later, she made her television debut with a one-episode role in The Affair. At the same time, she started playing the starring role of Brittany Dobler on the Fox series Red Band Society, which got canceled after one season. Following this, she starred as Cody LeFever on the ABC series Blood & Oil, which was also short-lived.
Afterward, she played the recurring character of Dr. Anna Ziev on the Fox series The Mindy Project. She then starred on the made-for-television film Real Life. 2018 proves to be a busy year for Rittenhouse. She starred as Keri Allen in an episode of Suits, as well as guest-starred on the TV shows The Handmaid's Tale and Into the Dark. She also starred in the movies Don't Worry, He Won't Get Far on Foot and Unfriended: Dark Web. She was cast as Keri Allen in the upcoming Suits spin-off Second City but was replaced by One Tree Hill star Bethany Joy Lenz.
The 30-year-old actress stays in shape by exercising regularly and eating right. By eating right, she focuses on having healthy meals and tries to avoid processed foods — at least most times. Her diet plan basically consists of lean proteins, whole grains, and fiber-rich foods. In the morning, she starts her day right by eating a healthy breakfast. Usually, it's an egg, whole grain cereal or oatmeal for her.
For lunch and dinner, she prefers to have fish or chicken with veggie salad on the side. She also eats lots of fruits, even for snacks. Other healthy snacks she loves are nuts and yogurt. She also allows herself the occasional guilty pleasures like ice cream and other sweets.