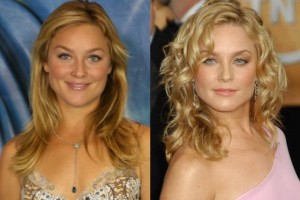 Early Career and Television Stardom
Elisabeth Röhm was born in Germany on April 28, 1973. Before turning one year old, she and her family moved to New York. She loved horseback riding as a child, starting to ride horses when she was five. In her later life, she attended Sarah Lawrence College, studying European History. In 1997, she began acting on television with her debut in the soap opera One Life to Live. Her late mother was a scriptwriter who wrote for another soap opera, Guiding Light.
She next appeared as a guest in Fantasy Island and Turks. In 1999, she starred as Max in the miniseries Eureka Street. After this, she gained prominence for playing the part of Kate Lockley in Buffy the Vampire Slayer's spin-off Angel from 1999 to 2001. While still on the show, she got the main role of Alison Jeffers on the TV series Bull, but the show didn't last long.
Subsequently, she found mainstream success after she began playing the part of ADA Serena Southerlyn in Law & Order, a role she played from seasons 12 to 15. Afterwards, she turned to movies and TV films, playing the role of Agent Janet in Miss Congeniality 2: Armed and Fabulous starring Sandra Bullock and Amber's Story. In the late 2000s, she appeared in the films The Kreutzer Sonata and San Saba and landed guest spots on the TV shows Masters of Science Fiction, Big Shots, and The Mentalist.
After appearing as a guest in 90210 in 2009, she started playing Lauren Gilmore, a recurring role in Heroes, appearing in eight episodes. In 2011, she starred as Lorna Price in the action-thriller feature Abduction starring Taylor Lautner and Lily Collins. The following year, she played the role of Robyn in Transit. Around the same time, she had a recurring part in The Client List and starred in the TV film Lake Placid: The Final Chapter.
In 2013, she took part in the movies Officer Down and American Hustle, the latter of which earned Academy Award nominations for Best Original Screenplay and Best Picture. Her most recent work in movies was in the 2014 direct-to-video film Mega Shark Versus Mecha Shark. She also recently played Amanda Taylor on the short-lived television series Stalker. Her upcoming movies are Love Is All You Need?, Blood Father, and Joy.
Has Elisabeth Röhm had Plastic Surgery?
The 42-year-old Elisabeth Röhm received widespread attention in the late 1990s and early 2000s for her portrayals of notable characters on television. Since then, she has become a household name, though it seems that she hasn't had any starring roles on the small screen ever since Law & Order. Despite lacking any significant appearances on the screen lately, the German-American beauty still wasn't able to escape people's prying eyes, especially now that some believe that she's had plastic surgery.
Rumor has it that the television star has undergone breast implants for a sexier look and that she chose a modest size to make the transformation subtle. Also, the actress looks youthful despite being in her 40s. Her face is flawless and looks really shiny, which can also be an indication of cosmetic procedures, as she doesn't have lines or wrinkles on her face. Not that it looks bad. In fact, she looks incredible, too incredible that it made some observers suspect that there are surgical enhancements involved.