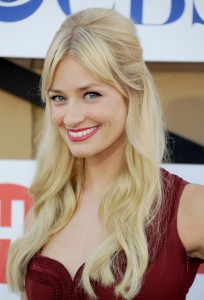 American actress Beth Behrs is currently enjoying stardom courtesy of her hilarious portrayal of Caroline Channing in the popular sitcom 2 Broke Girls. Prior to this, she had already started a career in the late 2000s, beginning with the direct-to-video movie American Pie Presents: The Book of Love. After this, she guest starred in a couple of television shows before gaining mainstream recognition for her starring role in the aforementioned sitcom, a character she still portrays up to present. Simultaneously, she acted in the movies Adventures of Serial Buddies and Monsters University. Her charm didn't go unnoticed in Hollywood as she was commissioned to host the 40th People's Choice Awards in 2014 alongside her 2 Broke Girls co-star Kat Dennings.
Standing at 5'5, the 30-year-old actress is a perfect example of the saying 'better late than never'. It's because she only began her acting career in her mid 20s and was able to make a name for herself in a short span of time, at least on television, which already is impressive. Aside from her knack for comedy, Beth is also widely known for her slender physique and her girl-next-door beauty, something she attributes to her great genes and of course, healthy lifestyle.
Despite being in her 30s, it seems that the actress has still a very fast metabolism, which probably helps her manage her weight efficiently. Being a public figure now, she's more careful of her body and her general well-being, thus being cautious in what she eats. Basically, she keeps it simple by mostly having veggies and fruits. To make sure she consumes lots of veggies, she drinks it, too, by turning it into vegetable juice. Plus, she takes complex carbs through eating whole-grain cereal and sweet potatoes. In addition, she cleanses her body by drinking three liters of filtered water every day.