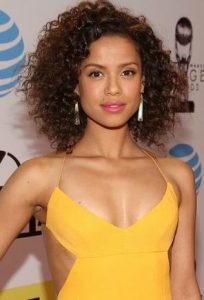 English performer Gugu Mbatha-Raw began acting in the 2000s. She debuted in an episode of Holby City. She next appeared in the TV movie Walk Away and I Stumble. She later had recurring roles in the British programs Vital Signs and Spooks. She later gained notice for her role as Tish Jones in Doctor Who. Afterward, she made her first movie role in 2007's Straightheads. At the same time, she guest-starred in Agatha Christie's Marple, appeared in 2 episodes of Lost in Austen, and starred as Viv Davis in the BBC drama Bonekickers.
Also, she guest-starred in Trial & Retribution and had a performance in the TV film Fallout. In 2010, she starred as Samantha Bloom in the American series Undercovers. She next appeared in the Hollywood film Larry Crowne. In 2012, she starred as Clea Hopkins in the short-lived Fox series Touch. She went on to star in the movies Odd Thomas, Belle, Beyond the Lights, and Jupiter Ascending.
The actress then became further known for her work in the movies Concussion, Free State of Jones, The Whole Truth, and Miss Sloane. In 2017, she played Plumette in Beauty and the Beast. More recently, her film career became prolific with several roles. This includes playing notable characters in the movies The Cloverfield Paradox, Irreplaceable You, A Wrinkle in Time, Fast Color, Farming, and Motherless Brooklyn.
The actress maintains a healthy figure by following a clean diet. With the Gugu Mbatha-Raw diet plan, she doesn't consume a lot of processed foods. Instead, her meals usually consist of the nutritious kind. Lean meat, healthy fats, fruits, and vegetables seem to be the kinds of foods that give her the right nutrients; hence, increasing her energy and strength. She indulges in her cravings every now and then. Having some ice cream or dark chocolate occasionally definitely doesn't hurt. For her, it's all about moderation.