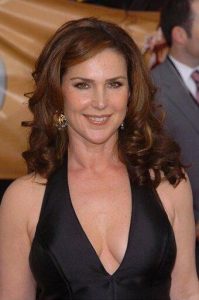 Actress Peri Gilpin started her acting career on TV, first with a one-time role in 21 Jump Street in 1988. After a couple more guest roles, she finally landed her first starring role on the small screen, as Irene in Flesh 'n' Blood. Shortly after, she gained her breakthrough role as Roz Doyle in the sitcom Frasier. She then had voice role in the 1988 direct-to-video film The Jungle Book: Mowgli's Story.
That same time, she landed many voice acting works. In 1999, she appeared in the feature film Spring Forward. In the 2000s, Gilpin had performances in some films, including How to Kill Your Neighbor's Dog and Thru the Moebius Strip. Even in the present, the actress still has a prolific career. From 2009 to 2011, she starred as Kim Keeler in the TV series Make It or Break It.
Afterward, she had recurring roles in CSI: Crime Scene Investigation, Men at Work, and Scorpion. She also landd the role of Eileen Taylor in the short-lived show Mr. Robinson. Her most recent role was in an episode of Why Women Kill. During this period, Gilpin has had performances in some movies, including Flock of Dudes, How to Train Your Husband, and Benjamin.
Peri Gilpin stays in good shape by doing exercises and simply living an active lifestyle. In addition to this, she also understands the importance of proper nutrition. That's why she has since cut back on processed foods, anything that's high in sugar and fat.
While she used to love breads and pasta, she's now learned to limit on eating carbs. Instead, she focuses on a diet plan that mainly consists of lean proteins from fish and meat, plenty of vegetables and fruits, and more proteins from non-meat products like nuts, seeds, and soy to name a few. Once in a while, she indulges in her sweet cravings but only in moderation.