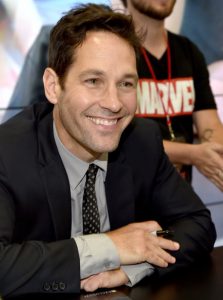 Hollywood star Paul Rudd had his career beginnings in the early '90s with his debut in the TV series Sisters. He next appeared in the show Wild Oats. Soon, he made his cinematic debut as Josh in the box-office hit Clueless. That same period, he played Tommy Doyle in Halloween: The Curse of Michael Myers. His next role was as Dave Paris in Romeo + Juliet. The rest of the 1990s saw him star in the films The Object of My Affection and The Cider House Rules. In the 2000s, his Hollywood career further flourished.
His films during this decade include the comedies Wet Hot American Summer, Anchorman: The Legend of Ron Burgundy, The 40-Year-Old Virgin, and Knocked Up, among others. He also starred in Forgetting Sarah Marshall and I Love You, Man. In the 2010s, his starring credits include Our Idiot Brother, Wanderlust, The Perks of Being a Wallflower, This Is 40, and Anchorman 2: The Legend Continues. He next played his first superhero role as Ant-Man of the movie of the same name in 2015. He reprised his role in Captain America: Civil War.
Portraying a superhero in Ant-Man, as well as in Captain America and in the upcoming Avengers film, Paul knew he needed to transform his body. Of course, changing his lifestyle entirely to have a clean diet is not easy but the actor did it nonetheless. Seeing his body in Ant-Man, it was obvious that his hard work paid off. But how did he exactly prepare for the role in terms of his diet plan? The actor spilled the beans in an interview. He said: "Eliminate anything fun for a year and then you can play a hero."
This basically means he cut down carbs from his diet. He also avoided drinking alcohol for a year in order to focus on getting fit and healthy. He was noted for saying: "My day was centered around fitness and health, and that was kind of a first." For Paul, this meant focusing on eating foods like oatmeal and protein-rich foods like eggs and chicken. Protein shakes were also very much involved and they usually consisted of almond butter, almond milk, and bananas.