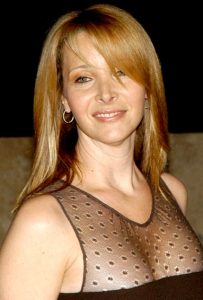 Hollywood star Lisa Kudrow had her career beginnings in the early '80s. When she was just starting, she appeared as an extra in some films. Her first credited role was in the 1991 horror film The Unborn. After a few years, she made it big after landing the role of Phoebe Buffay in the sitcom Friends. The show's popularity made her a star along with her castmates. Her role in Friends won her a Primetime Emmy Award for Best Supporting Actress. She also played Ursula Buffay in the series Mad About You.
While starring in Friends, she also starred in the movies Romy and Michele's High School Reunion, Clockwatchers, Analyze This, and Analyze That. After Friends ended in 2004, she resumed her work on television with the series The Comeback. Her role as Valerie Cherish in the show earned her Primetime Emmy nominations for Best Actress. She later played lead star Fiona Wallice in the comedy Web Therapy. Since 2010, she appears in the documentary series Who Do You Think You Are?. Her most recent roles in movies were in Neighbors 2: Sorority Rising, The Girl on the Train, and Table 19.
While dieting and fitness are crucial factors for Hollywood celebrities, Lisa Kudrow admits to not being a really fit person. She tries to exercise and live an active lifestyle, but doesn't do intense stuff and is also not fond of hanging out in gyms. "I'm the least fit person you've ever met," she said in an interview. She also admitted that her workout routine ends up being to just walking.
With walking, it's natural for her and she doesn't need to do some kind of preparation. Generally, she just sticks to basics like taking walks and running. She also spends time outdoors hiking and other activities. On the other hand, the actress still confesses to liking workout classes despite being hesitant to attend from time to time.