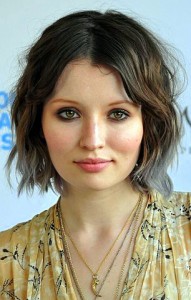 Australian star Emily Browning started her acting career in the late 1990s, making her screen debut in the Australian made-for-television movie The Echo of Thunder in 1998 when she was 10. Her feature film debut was in the early 2000s as she was entering her teens. She went on to appear in her first American movie in Ghost Ship released in 2002. In Australia, she played notable roles in a couple of television shows, such as Thunderstone, Blue Heelers, and Something in the Air. After 2005, Emily took a long break from acting and came back only in 2009 with a starring role in the psychological horror movie The Uninvited. She subsequently gained further notice after being cast for the lead role in the 2011 movie Sucker Punch. Her most recent films are Pompeii and Legend released in 2014 and 2015, respectively.
Standing at 5'1, the 27-year-old petite actress is remarkably fit and agile despite her short stature, something she efficiently showcased in Zack Snyder's action-packed feature Sucker Punch. This is because she, along with her co-stars underwent training and strict diet to be able to effectively play their parts. This, being her first major Hollywood production motivated Emily to work hard to improve her physical appearance to look better and stronger.
For one, director Zack Snyder made sure they all ate healthy foods during the duration of the shoot. The catering on the set offered nothing but only healthy, low-fat foods so she and the others could avoid the temptation of eating junk foods and other unhealthy snacks. These often are veggies, fruits, and lean meat. Foods rich in salt and sugar were a big no-no. They instead resorted to healthy snacks like nuts and yogurt. However, she indulged into her cravings once in awhile, 'smuggling' Tim Tams into the set from time to time.