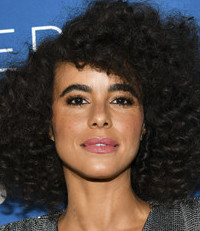 Hollywood actress Parisa Fitz-Henley first appeared with a small role in the 2006 film Even Money. That same year, she got one-time roles in such TV shows as CSI: NY, The Unit, and Studio 60 on the Sunset Strip. Back in the movies, she next appeared in Fist in the Eye, as well as played Corinne in The Jane Austen Book Club.
She then guest-starred in such TV shows as Grey's Anatomy and Private Practice. After this, she had small roles in the films Post Grad and The Sorcerer's Apprentice. In the 2010s, she made more guest roles on such TV shows as Blue Bloods, Golden Boy, The Mysteries of Laura, and House of Cards. In 2015, she played Reva Connors in some episodes of Jessica Jones. She reprised the said role in Luke Cage.
From 2017 to 2018, she starred as Fiji Cavanaugh in the supernatural drama Midnight, Texas. She also had performances in the movies Lola Versus, Bluebird, and Jack of the Red Hearts. In 2018, she gained recognition for playing Meghan Markle in the TV movie Harry & Meghan: A Royal Romance. This year, she starred as Leela Burns in the third season of The Sinner. She also starred in the feature films My Spy and Fantasy Island.
Parisa Fitz-Henley maintains a fit and strong body by taking good care of herself. She does this through exercise, proper nutrition, and general positivity in life. Healthy food is especially crucial for her. In order to achieve overall wellness, she frequents healthy meals with sugary treats and carb-loaded snacks only as occasional cravings. "The way that you rest, the way that you eat and the way you spend time with the people around you is important because stress is very hard on the skin and body," said the actress.