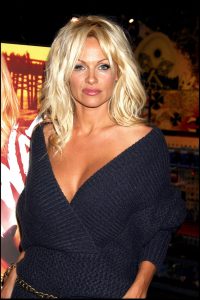 It was in 1990 that celebrity Pamela Anderson got her start on the screen. She debuted in an episode of Married with Children. She later became known for her recurring character as Lisa in the sitcom Home Improvement. At the same time, she played Cindy in the soap opera Days of Our Lives. Her claim to fame, however, was as Casey Jean "C.J." Parker in the hit series Baywatch, which she starred in from 1992-1997. While on the show, she had performances in the films Snapdragon, Raw Justice, Naked Souls, and Barb Wire.
She also reprised her role in the straight-to-video film Baywatch: White Thunder at Glacier Bay. After Baywatch, she starred as Vallery Irons in the TV series V.I.P. She remained active on TV in the 2000s, starring in the TV shows Stripperella as the lead and Stacked as Skyler Dayton. She also appeared as herself in the film Scooby-Doo, Becca in Scary Movie 3, and Invisible Girl in Superhero Movie. She also starred in 2008's Stripperella, which she also served as one of the producers. In the 2010s, she had performances in the films Hollywood & Wine, The People Garden, and SPF-18. She reprised her role as CJ in a short scene in 2017 film Baywatch based on the TV series of the same name.
Apart from her healthy eating habits, the actress maintains her fit body by simply being active. She doesn't go to the gym or goes through a strenuous fitness routine. However, she enjoys doing Pilates. "I do pilates every once in a while, I walk my dogs. I'm very active, but I don't go to the gym or anything like that," said the actress. When it comes to maintaining a healthy weight, it's all about nutrition for her. "Exercise is good for you, and it's good for stress relief and body shaping, but to lose weight, it's 80% food," said Anderson. She also credits her fit body to her love of taking long walks and dancing.