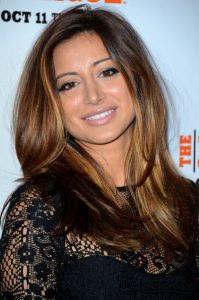 Hollywood star Noureen DeWulf had her career beginnings in the mid 2000s. During her initial years, she made guest appearances on such shows as CSI: NY and Girlfriends. She made her first movie appearance in American Dreamz. She also starred on the direct-to-video National Lampoon's Pledge This!. Her next role was in the movie Americanizing Shelley. Other films are The Comebacks, Killer Pad, Pulse 3: Invasion, and Ghosts of Girlfriends Past. On the small screen, her first recurring role was on Hawthorne. She then became known for starring as Lacey on the television series Anger Management. Her latest movie is 2014's They Came Together. Last year, she guest starred on the shows Life in Pieces, Grandfathered, and Hell's Kitchen.
The 33-year-old actress takes care of herself by sticking to a mostly nutritious diet. In an interview, she's shared how she's got into juicing to help her sustain her health. She said: "I recently have gotten into juicing as an in-between-meals snack. I think the more vegetable ingredients the better, especially if they are green. I find that a good juice can really curb my appetite when I need to wait for the next meal."
She's also very much into veggies. She shared: "I have a Community Supported Agriculture (CSA) box of vegetables delivered to my house every week. In it comes whichever vegetables are seasonal from local farms. Having these veggies delivered gives me an instant 'side' or snack for any protein that I am eating–I just cook up some kale, or a sweet potato or whatever arrived that week. Having these vegetables quickly accessible makes it so I don't have to go to the grocery store as much, but I still get the local organic vegetables." With her diet and love of greens, the actress is able to maintain not only her healthy weight, but also her excellent well-being in general.