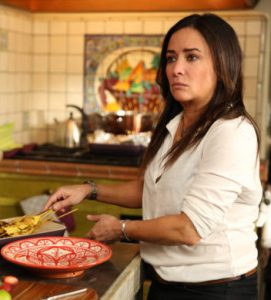 Actress Pamela Adlon debuted in the 1982 film Grease 2 as Dolores Rebchuck. On TV, she had her first starring role as Kelly Affinado in the NBC sitcom The Facts of Life. She next starred as Jenny Sheinfeld in the short-lived sitcom E/R. She went on to play the lead in 1986's Willy/Milly. During the '90s, she's had performances in the movies The Gate II: Trespassers, The Adventures of Ford Fairlane, Bed of Roses, Sgt. Bilko, Plump Fiction, and Eat Your Heart Out, among others.
She also became a prolific voice actress, most notably for voicing Bobby Hill on King of the Hill and Lucky on 101 Dalmatians: The Series. She later became further known for her role as Marcy Runkle on the Showtime series Californication. She starred on the said show from 2007 to 2014. She also had roles in the films Conception and 9 Full Moons.
Also in the 2010s, she starred as Pamela in the comedy-drama series Louie, which aired on FX. Continuing her work as a voice actress, she plays Olsen Benner on the animated sitcom Bob's Burgers. As of 2016, she stars as Sam on the FX series Better Things, which she also co-created. She also voices Tabby in The Loud House.
The Better Things star loves to cook, which she does a lot because that allows her to use healthier ingredients. As a working mom, it can be a challenge to eat healthily while on the go but she tries her best. It's mostly protein that she eats. "When I go to the set, I get hungry right away so I will eat lunch for breakfast. Then, by the time it's lunch I am able to sleep. In general, I like to try to get as much protein in as possible," said the actress. "I like having tuna on spinach, like a bed of spinach, or you know, I like hard-boiled eggs. I like anything that's like protein. I like turkey on a wrap."